Sponsored Product Ads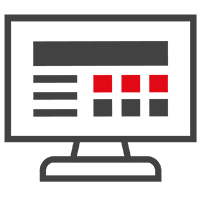 Our performance-based promotion tool allows you to increase the visibility of your products on Kaufland Global Marketplace through a more prominent placement. Reach exactly those customers who are searching for your products or are looking at similar products.
At the same time, you have full cost control, as you can define your bids and campaign budgets individually. In addition, you only pay for the clicks on your ads, displaying the ads themselves is free of charge.
You can create, monitor and optimize your campaigns independently. Since the dashboard provides an overview of the performance of your campaigns, you can make data-based decisions.
Take your chance for increased sales and long-term growth!
All information about Sponsored Product Ads summarised
What are Sponsored Product Ads?
Where are they displayed?
What are the costs associated with Sponsored Product Ads?
How can I start?
Your benefits at a glance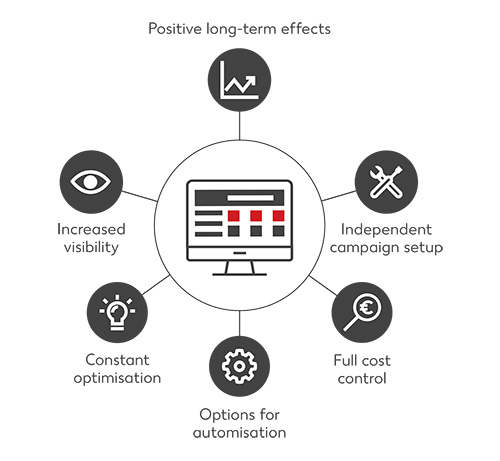 Easy and transparent: This is how Sponsored Products work with Kaufland Global Marketplace
Content Optimisation
Make sure that your product and offer data are provided in the most favourable way to ensure that increased traffic on your products will convert.
Setting up a Campaign
The system will guide you step-by-step through setting up the campaign, product selection, definition of keywords and budgets.
Track your Performance
Supervise your campaign's success, adjust your campaign settings or optimize bids and keywords.
Tips for a successful start
Campaign structure
When launching sponsored product ads campaigns, there are a few things you should take into consideration to ensure your campaign has a successful start.
The campaign budget should be designed so that at least 100 clicks can be generated for every product advertised during the campaign. Since it takes around 1 to 2 weeks before valid conclusions can be drawn regarding the performance of a campaign, 100 clicks per product is a good benchmark.
At the beginning of the campaign, it is advisable to start with an automatic keyword strategy. This helps you gain an overview of higher and lower-performing keywords. Higher performing keywords can then be included in an optimised manual campaign. Keywords that only generate clicks, but not conversions, can be deactivated and excluded in the keyword tab.
If you decide to pursue a manual keyword strategy right from the start, you should add several keywords suggested by the system, since they are classified by the system as relevant. In addition, it is advisable to add the name of the product category as a keyword.
Checklist
The following points should be taken into consideration before launching the campaign, so that it has a good foundation to ensure the best possible performance:
Products live, so that ads can be placed
BuyBox won, so that ads can be displayed
Product data entered and updated, so that ads can perform well
Products in warehouse, to ensure ads are displayed continuously
Own goals set, so that the right campaign structure can be selected
Requirements
Products live


Sellers registered with Kaufland Global Marketplace who have available offers on Kaufland marketplaces can use Sponsored Product Ads.

Seconds quality goods and books, however, cannot be advertised.

BuyBox


Your ads will only be displayed if you are currently in the BuyBox for your advertised product. This prevents you from paying for an ad although another seller is displayed to the customer in the BuyBox.

You can easily determine whether you or another seller are currently in the BuyBox in the Sponsored Products back office by displaying the "Buy Box" column in the campaign details in the "Products" tab. If the status is green, you are currently winning the BuyBox for the corresponding product.

Start check


Before you start your Sponsored Products campaigns, you should take a few things into consideration so you can actually improve the click and conversion rates for your products.

Product data is particularly important for your ads to be displayed correctly and perform well. Ensure that products are assigned to the right category, have clear and appealing titles (ideally, these should already contain relevant keywords), have attractive images, and have product descriptions that contain all important information for the user. The algorithm checks specifically whether the product is relevant for the customer, then decides which ads should be displayed for each search inquiry based on this check.

Likewise, you should ensure that you have the products to be advertised in stock, and that you are offering them at competitive prices. In cases where the products you advertise are also available from other marketplace sellers, your ads will only be displayed if you appear in the BuyBox!
In our webinars, you can learn more about how exactly Sponsored Product Ads with Kaufland Global Marketplace work, how you can launch your first campaign, and how you can optimise existing campaigns: